Rates

Availability/Reservations

Captain

Sailing Vessels

Cape Cod Sailing Links (new)
Vessels
---
Appropos quotes:

B.O.A.T. =

B

reak

O

ut

A

nother

T

housand

"A hole in the water you throw money into"

and my favorite:
"Sailing is like standing in a cold shower with your clothes on ripping up $100 dollar bills"

Our Vessel of choice:
O'Day Mariner 19
"George O'Day was one of America's most brilliant sailors, having won a Gold Medal in the Olympics... The company he founded probably did more to get people involved in sailing than any other, with such boats as the 17' Daysailor.




O'Day signed an agreement with Phil Rhodes to put his name onto the boat Rhodes had designed, and in 1959 fifty of the new Rhodes 19's were sold. The rig was almost an exact knock-off of the Lightning rig, with a single spreader mast and jumper struts.




With the growing popularity of sailing as a family sport, O'Day drafted a family version of the Rhodes 19 - the Mariner. They added a good-sized cabin and redesigned the deck. The first Mariner was built in 1963 and was O'Day's first venture into the cruising market. The rig on the Mariner was switched to a simpler single spreader design. So the boat could go anywhere, a cast iron centerboard was made an option, and over the years the centerboard model became the more popular."
Mariner is still made by Stuart Marine of Rockland, Maine. A better deal is to buy one used on ebay or Craig's list. They go for $2000-$4000 depending on condition. For parts contact DR Marine in Assonnet, MA. Owner Rudy Nickerson used to work at the O'Day factory and has every part you need and knows everything about O'Day boats.

Why only a 19' boat? Wellfleet Harbor is extremely shallow at low tide, and this boat draws only 10" with swing-keel up. Larger boats with fixed keel can only sail around high tide, and we can sail on any tide. Also, we can go right up on the beach for picnics. But it has an 8 foot cockpit which can carry six people. We also offer the US Sailing Small Boat Level One course which requires a boat under 20'.

2006-2019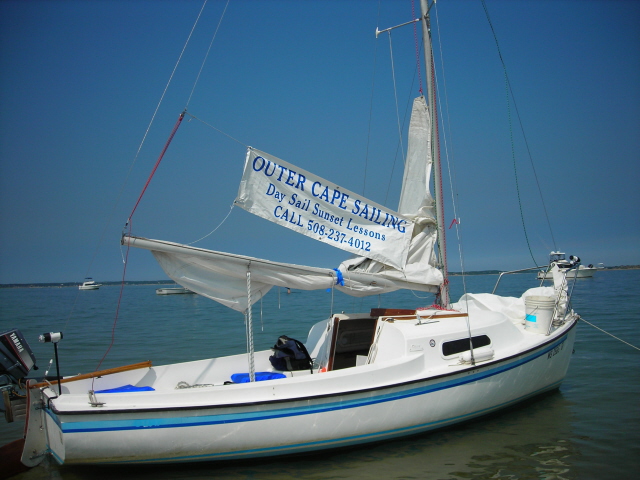 Sloop #2:

"

Syntropical 2

"

1977 O'DAY Mariner 19, hull #3468 out of 3771 built by O'Day until 1979. From US Mariner Association:

Why is it named SynTropical you ask? It is a combination of SYNTROPY and TROPICAL.

The Tropical part is fairly obvious. When I am sailing I always think of being in the Caribbean or tropics somewhere with Palm trees swaying, warm breezes blowing, drinking coconut milk, etc.

Syntropy is Buckminster Fuller's word for the opposite of entropy which means chaos, randomness, and disorder. If you knew how much work it took to restore this 1977 sloop, you would understand. Life itself is a form of syntropy, or if you prefer synergy.


UPGRADES

AND REPAIRS



2019
Annual hull sanding and bottom paint
Rudder chips and cracks repair with epoxy
Install oversize bolts on frame holding rudder pintles to upper rudder piece: drill and tap
Sand and varnish tiller
Clean interior
Silicone sealer around all chainplates
Repair backstay chainplate deck crack with 3M 4200
Miscellaneous gelcoat repairs
New swing keel line
Clean and polish exterior hull
Detail stripes and touch-up paint
New bulkhead line holder mesh bags
Brightwork-sand and varnish all wood trim
Replace outer two bulkhead fender cleats
Replace broken sail slide
Replace bolt on sail slide opening in mast
Repair bow and stern running lights
Minor sail repair
Install new plastic hose for sink pump
Clean and gelcoat floor of hull (bilge)
Clean and paint floorboard with bilge-coat paint


2018
Annual bottom sanding and painting
Repair fiberglass around backstay
Repaint blue stripes
Gelcoat repairs
Repair rudder bolts
New swing keel cable
Repair bow and stern running lights
Starboard hatch slide bracket replaced

2017
Purchase and install new 2010 4-cycle 6HP Yamaha outboard
Replace swing keel rubber washers
Annual bottom sanding and painting
Deck-hull joint repair both sides: bolted together, new molding, 5200 glue
Repair running lights
Replace rubber gasket on spinnaker foreguy
Replace hatch slider molding and varnish
Repair fiberglass around backstay
Repaint blue stripes
Gelcoat repairs
Paint floorboard with bilge paint
Repair rudder bolts, wire, pivot bolt, etc.
New rudder cable roller
Replace boom end cap
Replace gooseneck with oversize
Replace cockpit drain hoses
New wind vane
New hull liner (interior carpeting)
New bow eye for trailer winch: Stainless.

2016
Annual bottom sanding and painting
Water pump overhaul on outboard
Cooling system corrosion repair on exhaust water jacket
New traveler wire, end shackles and main sheet traveling block
Repair stern light
Modify bow running light
Repair loose stern light post
Bright work sanding and varnish
Replace starboard hatch board bracket
Replace sheet line pouches
New shackle for topping lift
Shorten frayed jib sheets
Replace worn out labels for jib sheet
New wind vane
New custom mainsail from Vermont Sailing Partners: shortened luff, extra-heavy duty UV resistant fabric, partly full battened, battens parallel to boom for easy stowing of sail

2015
Annual bottom sanding and painting
Replace broken spreaders
Main sail leach repair

2014
New custom jib designed by Vermont Sailing Partners
Modified mainsail to raise higher
Annual bottom sanding and painting
Replace outboard water impeller
Clean out cooling system on outboard
OB carbureter disassembly, cleaning and reinstallation
repair/seal swing-keel pivot bolt and bushings
Paint detail touch-up
Fix mast A-frame
Fabricate new mast raising system
repair/replace spinnaker blocks mounting brackets
gelcoat repairs
repair running light and stern light
varnish wood trim
varnish tiller
cut one foot off tiller to allow more cockpit space
repair sail track opening cover with rivet
replace line for tiller tamer
repair broken stern light post
replace telltales on shrouds
install new document rack
replace swing-keel cable and line
repair sheet line pouches
replace sheave on starboard jib sheet block
narrow traveler block on stern



2013


Annual bottom sanding and painting
Paint detail touch-up
Mainsail and Spinnaker repairs
Repair/replace towing eye
Repair/replace fiberglass and gelcoat under towing eye
Replace stern light pole
Replace running light batteries
Fix mast A-frame
Varnish wood trim
Repair sheet line pouches
Replace fuel tank and lines
Replace Outboard water pump and impeller
Swing keel pin maintenance
Swing keel pin hole epoxy fill-in
Gel coat repairs
Bird net repairs
Adjust and tune rigging
OB carbureter disassembly, cleaning and reinstallation
Batten bolt replacement
Gelcoat floorboard
Tiller and extension epoxy repair
Repair fishing rod
Install plastic cover on rudder kick-up twin cables to prevent jamming
Emergency replacement of main sail with off-the-shelf Rolly Tasker main sail



2012


Sandblast, epoxy, and fair swing-keel
Outboard impeller cleaning/replacement
New forestay
New jib sunshield sewed on
Mainsail batten pocket repair
Spinnaker repair
Repair swing-keel bolt leak
rear traveler sheave repair
gelcoat hull interior under floorboards
Repair running lights
New bird nets on spreaders
replace swing-keel cable
repair swing-keel spool bolt holes, epoxy and redrill
re-varnish all wood surfaces
new outhaul block



2011


rudder repair
outboard impeller and gasket replacement
repaint stripes
paint floorboard
tighten, gelcoat bow eye for towing
new windvane
new fishing reel
new running lights
reseal/caulk cabin windows



2010


spinlock camcleats for jib furling line and spinaker halyard
tighten gudgeon bolts
install heavier cable for swing keel (3/16")
new seat cushions

2009
outboard carburetor repairs-ethanol damage to fuel pump membrane
bilgepaint interior of hull
repair bow hook and gelcoat
replace windvane
install new spinaker halyard
purchase new spinnaker
replace flag halyard cleat



2008


repaint stripes
New mainsail
new anchor bracket
mounted spinnaker pole on mast
boathook backet
fishing pole bracket
replace outboard water pump impeller
replace outboard pivoting rod with SS, and plastic mounts.
new bird nets on spreaders
new rear traveller when carrying 6 passengers
seal keel pivot pin outer bushings with 5200, new rubber washers for bolt
2:1 line system for jib sheets, green/red sheets
bow ding repair
gelcoat repair
re-varnish all wood surfaces
remount spinnaker halyard fiddle block
added jiffy reefing system
replaced main halyard with green
replaced jib halyard with red
stern light pole repair
paint outboard, new zinc, misc parts

2007
Stripped bottom to gelcoat and repainted
Added CDI FF1 furling system
Repaired rudder pull-up system
Installed spinnaker sheet blocks, cam cleat, halyard/fiddle block system, spinnaker pole for spinnaker
re-varnish all wood surfaces
dinghy repairs
masthead windvane



2006


reglass swing keel pivot bolt
new pivot bolt bushings
swing keel, sandblasted, epoxied, painted
swing keel cable and retracting line replaced
new working jib
new port lower shroud
new backstay
new jib halyard
new main halyard
new jib sheets
jib cleats replaced
new main sheet
new fiddle block for main sheet
new topping lift
new rudder pull-up cable
drill rudder pintle for hitch pin
new backing plates for rudder gudgeons
reef point for mainsail
new bow rail
mast compression post mounting block ground out and redone
new wood trim for hatch cover
hatch cover slides sanded and varnished,
companionway slides removed and replaced
new companionway door
bottom scraped and painted
non stainless hardware removed
install Ladder
running lights
mast slide cover
1988 6HP Yamaha outboard added
anchor, chain and line added
replaced tiller extension bolt
added tiller tamer
mainsail cover


---
2004, 2005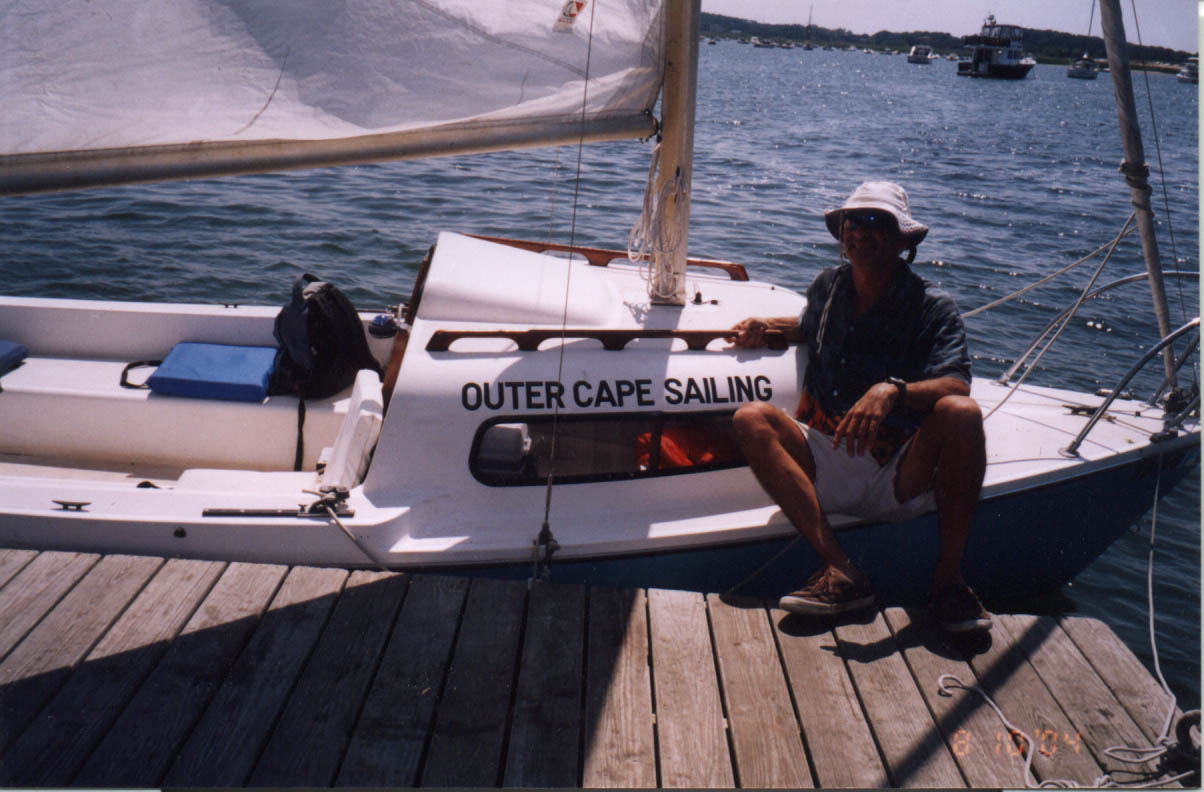 Sloop #1 "Syntropical"- 1973 Vanderstadt and McGruer Siren 17. Sold 2006, still sailing in Lake Champlain.
From BLJones, Sailing Anarchy Forum, Dec. 28, 2012
"Different van de stadt- this one was penned by Hugh, the nephew of the more famous EG, and IMO the most successful 17' pocket cruiser ever, at least as far as introducing folks to sailing and KEEPING them sailing. Every Siren that has been slipped on the Dock in recent memory has been owned by novices who bought them "to try sailing and see if we like it" who then sold their boats after a season or two and moved up to larger rides.
As an aside, all of those Sirens sold for at least what their owners paid for them: it's the only cruising boat I have ever seen with zero depreciation.
They are relatively stable for a boat that size, comfortable for occasional overnighting (if you can find one with the optional boom tent, they make a respectable family camp cruiser) with enough sail area to be sporty without feeling like you're always sailing on your ear.

Completely superfluous trivia: The Siren was the product of the incestuous "prodigal sons" boatbuilding industry in Owen Sound Ontario in the 60s-80s. Just as Hubert van De stadt is not THAT van de stadt, the McGruers involved in the process, Alex and Fraser aren't THAT McGruers, their better known ancestors from the UK. Van De stadt and McGruer and McGruer and Clark were responsible for designing and/or producing some enduring cruising designs, such as the Grampian 23, 26, 30, 34-2, the Challenger 24, Georgian 23, Sirius 21/22, 28, Seaforth 24 in addition to the Siren and the fun little Skunk."